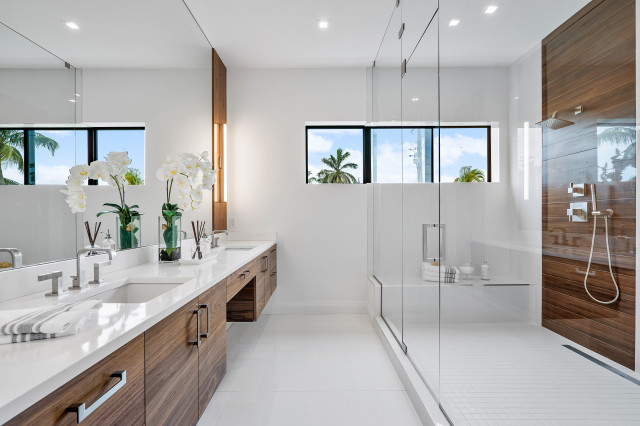 A lot of people consider showers and baths as a way of relieving stress from their day-to-day life. If you are this type of person and you feel like your bathroom looks and feels outdated, then it is about time that you have an upgrade.
Bathrooms are one of the favorite areas homeowners like remodeling. The smaller space makes it easier to renovate. Additionally, the smaller space means the lesser cost for tile flooring, paint, cabinets, and countertop.
Take a look into these 5 benefits of bathroom renovation, improve its appeal, and make it more pleasing to the eye while maintaining the whole renovation smooth, structured, and save money in the long run.
Renovating your Bathroom 101
Major remodeling is not a joke. You will be spending a lot of time on it. The planning stage alone is going to take a lot of time so efficiency is one of the keys to making it successful.
Remodeling your bathroom has a big return on investment once you put up your home. It adds to your home's value because of the aesthetic and practical upgrades you have done with it.
Here are our best tips to consider:
Bathroom Remodeling Planning Process
This part is going to be the lifeblood of your bathroom remodeling. You have to carefully plan it to maximize efficiency. Create a vision in your mind and don't just come in blindly not knowing what to do. Layout your plans and put them into writing. Do you want a modern look or just improve what you currently have? You could always stick to your original plan or modify it as you go along. Nothing but a good old checklist does the job when it comes to planning.
Use Cost-Efficient Materials
If you wish to remodel your bathroom, one of the things you need to consider is using affordable but quality components.
There are a lot of ideas in your head, but all of these will demand different mediums and costs. For example, instead of going for granite floors and countertops, you can opt to go wooden because wood is cheaper than concrete fixtures. Also, you can use LED lights that require less energy compared to traditional lighting.
Always choose what is affordable and compliment your overall theme.
Build an Energy-Efficient Bathroom
You can save more energy if you utilize natural lighting. Take advantage of the sun's light. You can do this by installing window fixtures on toilet areas where the sun is usually located at.
Also, instead of choosing dark colors which absorb heat more, go for light cool colors to maintain the temperature of your bathroom as cool as possible.
Maximize the Space of Your Bathroom
Make sure that the placement of faucets, toilets, shower sources, tub, and storage is adjacent to existing plumbing fixtures. This will cut your expense for installing new plumbing. Also, ensure that every space has a specific purpose. Consider the features that have a more functional purpose rather than only basing it on aesthetic appeal.
Hiring a Professional is Better than DIY
You may think that DIY is better because it will reduce your expenses, but the truth is, if you do not know what you are doing, you are bound to fail.
Hiring an expert will ensure that your home bathroom makeover is successful. You may see it as a huge expense, but trust us, the long-term effects are better than having short ones most especially if you are planning to sell your home in the future.
An expert's touch will add more value to your home. That is one irrefutable fact that most people don't know.
Reeves Remodeling -Expert Home Bathroom Remodel Contractor in Tulsa, Oklahoma
If you have decided that you need to remodel your bathroom, you have to choose the best contractor in town and that is us Reeves Remodeling. Our team of Bathroom remodelers knows everything about bathrooms. From the floor, toilets, storage units, plumbing, and many more. Our other services include giving any bathroom a fresh modern look or any design you have in mind. We also do some house and room remodeling too.
Call us at our contact no. 19182648785 and visit our website
Our business office address is 12322 E 60th St. Tulsa, OK 74146. Please give us a visit for a free consultation.
Conclusion
April is almost over! You should start thinking about having a makeover.
An important key that we would like to highlight is the planning process. You have to consider everything before executing this project. That's why you need the advice of an expert so that you do not encounter issues in the future.
You can increase the value of your home by considering the benefits we have mentioned in this article. You will only realize the advantages once you get to sell your house and it might not seem beneficial right now, but trust us, it is going to be worth it in time.
We hope that this blog enlightens you and guides you in your quest for a bathroom remodel project.
You can leave a comment down below for queries and suggestions.