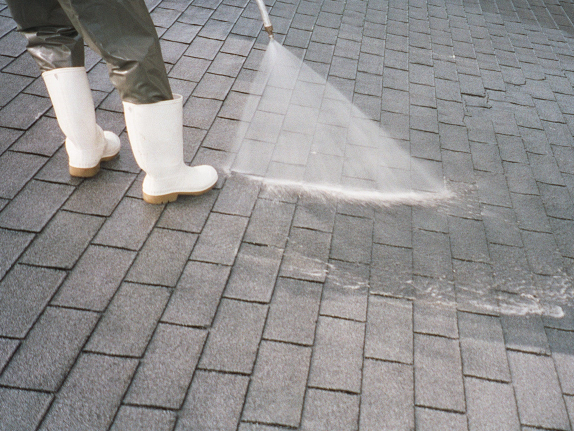 The process of roof cleaning can be widely misunderstood. Roofers often offer an expert level of professional advice when it comes to roof cleaning. It can be quite easy to have rumors start to circulate regarding roofing materials and how to clean them. Some of the most common myths about roof cleaning that we hear as professionals include:
Stains Are Only Caused By Pollutants And Dirt
It is possible for airborne pollutants and dirt to stain your roof but algae and moss are much more common. If you see more moisture on your roof, it can reproduce faster. On the rainiest of days, algae can form streaks across your roof that will quickly spread to other areas.
Algae And Moss Are Only Cosmetic
Algae and moss can be extremely destructive. Even though they reproduce quite quickly, they can consume the limestone which is found in many asphalt shingles. This can make the outer layer of your shingle extremely brittle and this will ensure that you will experience premature degradation across your roofing system.
You Need To Replace Your Whole Roof After Moss And Algae Are On It
You won't need to spend any extra money on unplanned roofing replacement just to get rid of some of the streaks on your roof. Professional cleaning can take care of this issue and it usually just takes a day. Working with a professional roofer can make sure that the process can be done without damaging your roofing materials and make sure you won't have to buy a new roof.
You Can Clean Your Own Roof
Choosing the DIY option for roof cleaning is often a bad idea. Making sure you get permanent prevention for algae and loss means using the right chemicals and specialized tools. Climbing on your roof can also be hazardous if you don't have the right training and safety equipment.
If you'd like to learn more about professional roof cleaning contact us today. We can introduce cleaners that can preserve your roof without damaging your landscape.
This post was written by Ted Williams! Ted is the owner of A Old Time Roofing which offers roofing in St Petersburg Fl. Ted is a Master Elite Weather Stopper GAF Roofing Contractor, a double award winner of Best Steep-Slope Contractor from GAF and achiever of Master Elite Consumer Protection Excellence from GAF. He has been serving the Pinellas County area since 1978. A Old Time Roofing has been a tradition in quality workmanship, servicing residential and commercial properties.