Stunning window blinds lend your space an elegant appeal while keeping the glare out and offering you the privacy you deserve. The most timeless and classic blind of them all are roller shades. Their slim design neatly tucks into your window recess thereby, minimizing bulk.
These blinds comprise a large fabric strip attached to a headrail secured to your window and facilitate a smooth up and down roll. The array of shade colors, patterns, and fabrics allow you to match your décor fittingly. Roller blinds are low on maintenance. A quick dusting or a damp microfiber cloth wipe keeps them clean.
Practical Curtain Alternative
The lateral support that roller blinds offer makes them easily adaptable to any window. Even when you keep your windows open, attractive roller shades continue to fulfill their functional purpose. Installing this versatile and practical window treatment is a convenient way to elevate your interiors, whether classic or modern.
Roller blinds are an affordable solution in keeping with today's minimalist decorating styles instead of opting for heavy drapes that are costlier. Enumerated below are the many advantages of introducing your interiors to versatile roller blinds:
Reduce and block the outside glare
Adjustable, easy to install, and operate
Convenient to replace and update
Maintain optimum indoor temperatures
Incredibly durable and aesthetically-pleasing
Compatible with any decorating theme
Allow natural light to penetrate through
Control privacy
Demand minimal maintenance
Wide selection of sizes, colors, and fabrics in modern and traditional designs
Window Roller Blind Design Ideas
Roller blinds seamlessly blend in with your windows, enhance your décor, and allow you to admire the outside view. Their minimalist yet, modern appeal offers the listed seven amazing design ideas for your window treatment:
All-White
An all-white design concept without being plain and basic can still make a minimal statement. You can cheer up your space with roller blinds in tone-on-tone and textured patterns. These, too, give you a refreshing peek of the outside world.
Pair the Shade with a Fabric Valance
You can dress your window in a soft fabric valance with a modern and chic design. A decorative valance paired with roller shades enhances its architectural detailing.
No Line Breaks
Make a stylish statement with flexible archetype shades whose patterns and colors complement your space. The absence of line breaks brings out the natural boldness of the blind without compromising on functionality.
Patterned Rollers
Brighten up your living area or your kid's nursery by layering up their windows in patterned rollers. Besides adding a pop of interest, these blinds lend your space a personal and unique touch.
Bring the Outdoors In
Whether your space is modern rustic or beach-inspired, installing natural roller blinds does complete your interiors. The natural texture of the shade brings in an exterior element without taking away from your room's simplistic appeal.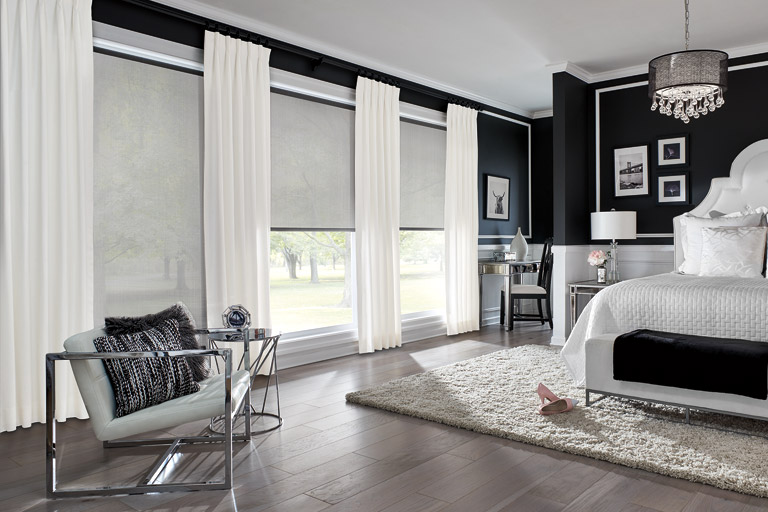 Combine with Drapes
You can create a contrast of opposites by combining a minimalist roller shade with decorative drapery. Draping fabric adds an element of softness to your windows, while the roller shade beneath contributes to controlling light.
Mix of Natural Light and Privacy
A sheer roller blind, when paired with drapes, allows light to filter through and gives you the option to draw your curtains when privacy beckons. Similarly, if you install a sheer drape, the roller shade against your window takes care of the privacy element.
Buying Considerations
The factors you must consider when choosing from among a wide and diverse selection of roller blinds includes:
Dimming Level
Translucent shades, although they let in natural light, also expose you to the scorching sun. Blackout blinds in appropriate fabric color and thickness safeguard you from the intense heat without making your interiors appear too grim. Striking a balance between your need for privacy and natural light is ideal.
Mounting Method
A shade that facilitates easy installation and removal when the need arises proves most practical. You want a roller blind that is convenient to mount without involving excess time and effort.
Folding Mechanism
Blinds with beads allow for more accurate positioning and seamless movement even when the fabric chosen is thicker. The simple thread mechanism works best with airy materials. After all, your shade needs to be rolled up to let in light daily.
Functionality
These shades are meant to be functional at all times. You should be able to roll them down when privacy matters and up when you choose to view the outside world. Check for optimum functionality before you finalize your selection.
Approach a highly rated and reputed window treatment solutions provider who consistently earns high customer review ratings.