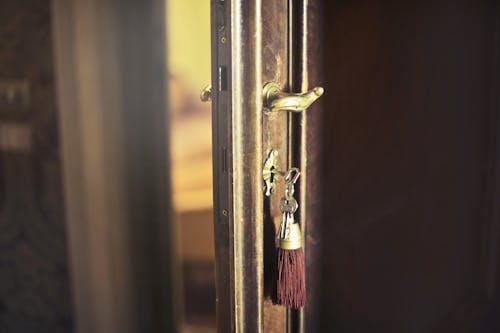 Whether you have just moved into a new home or are already settled in and comfortable, there is nothing more satisfying than feeling free and safe in your surroundings. Unfortunately, with today's ever-increasing crime rates, this safe and comfortable feeling is harder and harder to achieve, and you don't want to end up turning your home into a prison just because it feels safe. So what do you do?
Burglars strike nearly every 30 seconds, no matter where you live, so keeping your house secure should be a top concern. Here are some easy things that professionals recommend you do right away to safeguard your new house so you can get back to the enjoyable activities you and your family hold dear while also feeling safe in your home.
Make Sure the Doors Are Secured
Don't assist a thief in entering through your front door. According to recent statistics, approximately 34% of homeowners leave their front door unlocked. Don't become another statistic and make sure you lock your doors.  Inspect every one of your external doors to ensure that the doors frames are sturdy, their hinges are secure, and that no one is able to reach through your mailbox hole to unlock your door. If you find some problems, get them fixed immediately to ensure your family and property's safety.
Change the locks if you have moved into a house that was previously occupied by someone else. By doing this, you won't have to worry about outsiders having keys to your property, and you'll be able to ensure that you have the best locks available on the market.
Close and Lock Your Windows
Burglars most commonly enter through windows when entry through doors is not an option. Manufacturer window locks aren't always reliable, and they may be weak at times. If your regular window latches don't give you enough peace of mind, you may increase security by installing key-operated handles or bolt locks.
Brighten up the Garden
Criminals, vandals, and robbers dislike being in the spotlights. With enough outside illumination, you can keep the bad guys at bay. Lights should be placed in your back and front yards, along walkways, and near garages or other outside structures. You'll not only make intruders nervous, but you'll also reduce your chances of falling over anything while you are outside at night.
Put a Security System in Place
Whether you choose a basic system or a system with home automation and professional monitoring, your house ought to have a security system of some sort. There are several home security alternatives available now to suit every level of protection needed and budget.
For example, with the advent of modern technologies, you can secure your doors with a security system. Many companies like Access Control Pros offer security features, such as the key fob access control systems to add an extra layer of protection to your doors. These systems are designed to ensure that only authorized persons can access the doors with a fob or card, keypad, or through your mobile device. As a result, you'd feel secure, knowing you found a way to stop burglars from entering your home.
Likewise, you can set up a home alarm system composed of a siren, hub, contact sensors, and motion detectors to detect if someone is trying to access your property without your permission. Hence, get a security system as soon as possible to make your home safer and more secure.
Examine the demands of your community and your home before choosing a system.
You may check Alarm Grid to learn about local crime statistics and get assistance with your home security needs.
Don't Overlook the Garage
Criminals are increasingly using this entrance point to get access to your house. Even if burglars can't get into your house, there's a high possibility you have more than enough valuables stored in your garage. This is where garage security enters the picture.
For instance, you might want to keep the garage door keys or electronic button in your home as well. That way, thieves won't be able to take it from your vehicle. Make it a practice to lock all garage doors. Also, if you choose to use security codes instead of keys to access the garage, then keep it hidden and never give it out to other people.
Remove Any Hiding Spots
Trees and larger shrubs provide beauty to your home, but they can offer hiding spots for criminals too. Plants and trees near your house that may be utilized as hiding places should be pruned.
Instead, use smaller blooms and shrubs. Remove any trees that are close to windows or strengthen those windows' security. Also, don't forget about the remainder of your house's exterior.
Add A Security Sign
If you have a tight budget for a state-of-the-art security system, you can still make your home safer by adding a legitimate security sign in any visible area of your home. In most cases, burglars tend to target homes without any sign of a security system. In that case, this might help keep them away to ensure your dwelling remains safe. However, remember to use legitimate signs as professionals can detect fake ones easily.
Final Words
Now that you have a handy security checklist to follow, you can set out securing your home and give yourself room to worry less about what could happen and enjoy life more. And don't worry, you don't need to do it all at once.
Determine which tactics are most essential to you, then develop a strategy to implement the other strategies later. The best approach to ensure your house and family are secure is to identify potential security threats and take action as soon as possible.