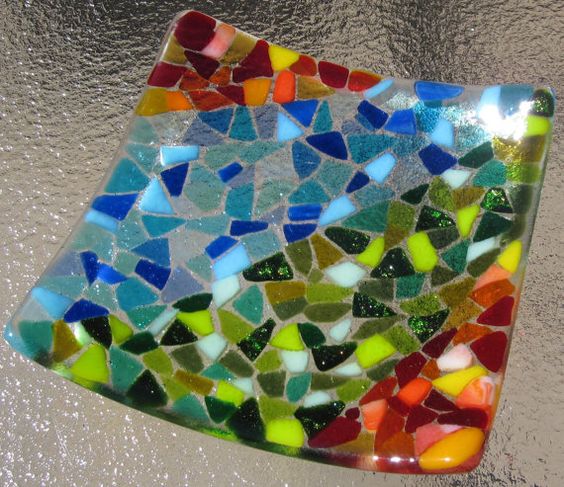 Do you know a glass artist can earn an average of $31.52 an hour, which is a whopping $65,560 a year? Glass art as a career has grown tremendously in recent years creating new opportunities throughout the US.
There are formal training programs in the arts or in historic preservation for young, aspiring glass artists to learn the craft.
Are you too interested in becoming a stained glass artist? Then, it is imperative to know the various prevalent kinds of glass materials to create masterpieces.
Let's learn about these types of glass below:-
COE 90 & 96 Glass for Fusing
Any glass can melt in a kiln when you heat up, but understanding how the glass works helps you create the perfect masterpiece. The most common type of fusing glass is the COE fusible glass. COE stands for the Coefficient of Expansion  is the rate at which the glass expands & contracts, when heated and cooled subsequently.
If you are fusing multiple glasses, then you need to select the glasses which are compatible for a better outcome. Fused glass manufacturers test the glass to guarantee COE, also known as "Tested-Compatible." To prevent stress cracking and breakage, it is indispensable that both glasses have the same COE.
The two most popular CEOs for fusing are 90 and 96. The difference between the two is the latter 96 is softer and fuses at a much lower temperature than 90. Regardless of the COE, you opt for, you will have a huge selection of colors available in the palette.
COE 96 is the most preferred choice for beginners of glass art. But, why? Because it has a much longer working range and gradual change of heat. It becomes softer when heated, and rigid when cold with predictability and smooth progression.
COE 90 on the other hand, is best-suited for pro glass artists as there is a vast color palette. There is an incredible range of colors for fusers. In addition to the color choices, there are a myriad of dazzling effects, including streaks, textures, feathers, and streamers. Not to forget the stringers, dichroic coatings, and frits.
Etched Glass for Fusing
Etching is the process of altering the glass surface for creating a decorative effect, usually translated into artwork, lettering, or decorative pattern. The glass is etched either via acid-etched or sandblasted. The etched glass is beautiful, but it comes with a high price tag.
The etched glass can be melted into any glass art design without any hassle. The COE 90 and 96 etched glass is a perfect pick if you want to add a distinctive vibe to your artwork. The details of an etched glass will leave you amazed.
This type of glass is available in a variety of options. These include COE 90 etched iridescent, COE 90 & 96 freestyle etched glass, COE 90 etched luminescent glass, COE 90 etched dichroic glass, COE 90 Duncan dichroic, COE 96 etched luminescent glass, COE 96 etched dichroic glass, and COE 96 Duncan dichroic.
Clear Glass for Fusing
Clear glass is also widely used for several creative fusing projects. Thin clear glass is the most preferred pick for creating artificial art jewelry as it is light in weight. Transparent colored glass can inject life into any project. With clear glass, you will discover a huge selection of shades, spanning from vivid hues to pastels.
The neutral shades of the clear glass will add more style & grace to your artwork. The clear & black glasses for fusing are another worth considering because of their interesting textures. You need to lower the firing temperature so that this kind of glass will retain as much texture as possible.
Bullseye Glass for Fusing
Bullseye glass is one of the best types of glass for fusing. It offers a myriad of perks as follows:-
Bullseye glass is tested to be compatible with different types of glass. Therefore, your creativity won't be limited by compatibility.
Bullseye glass is way more affordable than any other type of fusing glass.
Bullseye glass comes in various styles, available in 2mm and 3mm sheets, stringer, frit, and rod.
Bullseye continuously comes with updated styles to add more life to your next artwork.
Bullseye glass is handcrafted by specialist casters of the United States of America.
Bullseye glass can align with the creative curiosity of the glass artist.
Renowned artists such as Amanda Simmons, Bob Leatherbarrow, and Rudi Gritch use the bullseye glass.
Bullseye glass is versatile and suitable for slumping, casting, and fusing.
The Bottling Line
Finally, becoming a glass artist is challenging. You can enroll in a professional glass art course or learn from YouTube videos/online learning materials.
You can order art glass supplies from a trustworthy store without having to step out of the comfort of your home. Whatever you opt for, practice remains the key to success. So, try hard, no matter how bad the outcome may be because eventually, you will improve your craft to be a renowned name in the industry.